Installation ActivityWatch sur Ubuntu
Activity Watch est un outil qui enregistre toute votre activité sur votre ordinateur. On conserve ainsi des traces de ce qu'on fait dans une journée (Titres des fenêtres actives, URL regardées, fichiers ouverts dans un IDE,...).
Toutes les données sont enregistrées en local sur votre poste (ces données peuvent être très sensibles).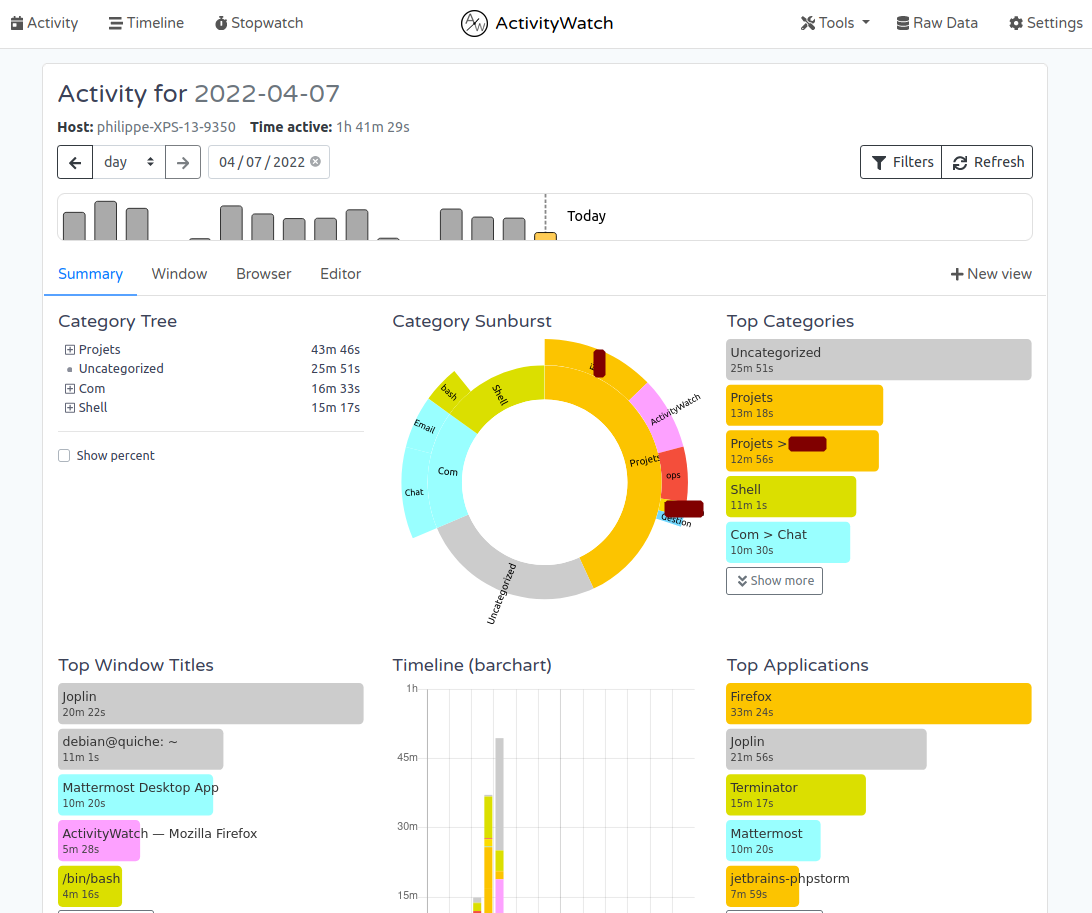 J'utilise beaucoup l'outil pour savoir sur quel projet j'ai travaillé chaque jour.
Page d'accueil de ActivityWatch
Installation de Activity Watch
Télécharger et dezipper
Télécharger la dernière release dans la liste des releases
dezipper dans un répertoire. Chez moi c'est dans /home/philippe/program/activitywatch
lancer à la main pour tester
cd

 /home/philippe/program/activitywatch
./aw-qt

Aller ensuite sur http://localhost:5600
Si ça marche, c'est tout bon, vous pouvez faire ctrl+c pour ressortir
lancement au démarrage (autostart) pour ubuntu
Aller dans le répertoire /home/philippe/.config/autostart/ et créer un fichier aw-qt.desktop
 1




 2




 3




 4




 5




 6




 7




 8




 9




10




11




12




13

[Desktop Entry]
Name=ActivityWatch
GenericName=Time-tracking application
Comment=Open source time-tracking application with a focus on extensibility and privacy.
Exec=/home/philippe/program/activitywatch/aw-qt
Hidden=false
StartupNotify=true
Terminal=false
Type=Application
X-GNOME-Autostart-enabled=true
Version=1.0
Icon=activitywatch
Categories=Utility;

Redémarrez votre PC et allez sur http://localhost:5600 : vous devriez voir l'interface de activity watch.
Installer des watchers supplémentaires
navigateurs
Cherchez et installez l'extension activity watch pour Firefox et pour Chromium. Il n'y a rien à configurer ici.
phpstorm
installez le plugin activity watch. Il n'y a rien à configurer ici.
autres watchers
On peut trouver une Liste de watchers
Configurer l'outil : Settings / Categorization
La configuration des catégories se fait dans l'interface d'activity watch dans Settings > Categorization.
Fonctionnement de la catégorization
C'est le truc le plus long à configurer. Chez moi j'ai décidé de configurer mes catégories en 3 parties : Com, Shell et Projets.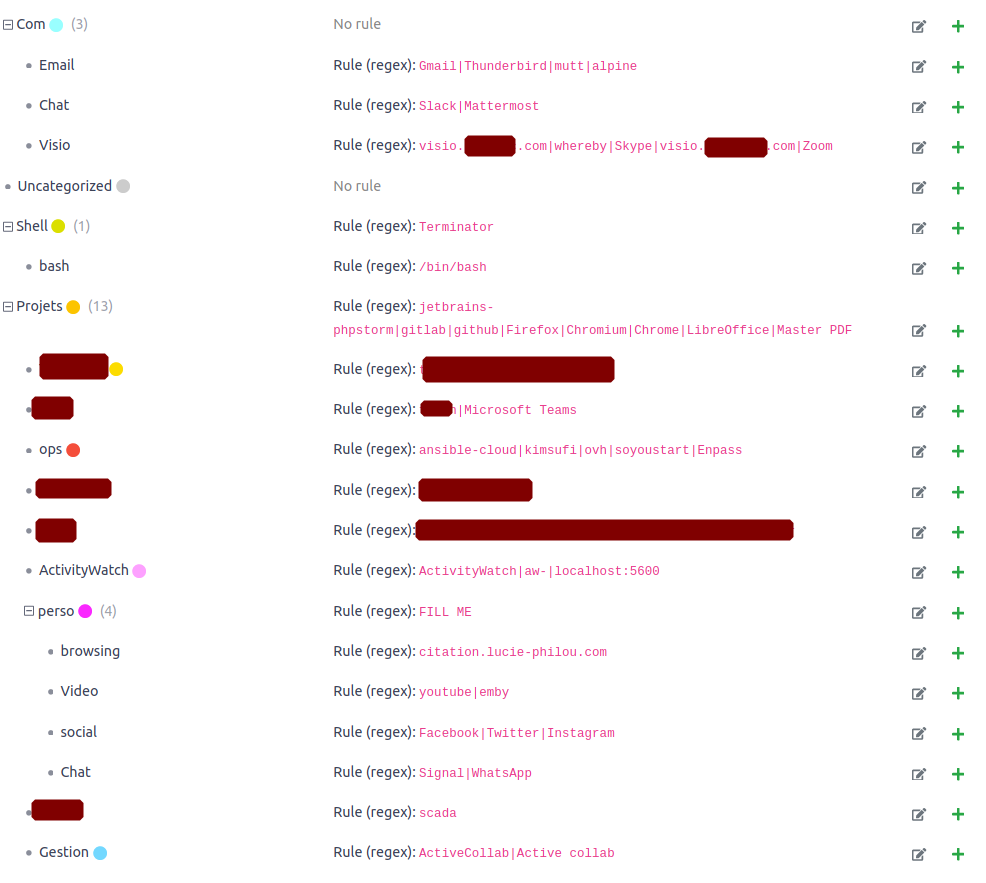 Docs applicables